Is it the best Jasper alternative?
Reading Time: 8 Mins | Author: Ravi Varma
Before going to the Review,
Let me tell you.
Articleforge AI Writer is now offering a whopping  Deal in Black Friday Deals
Article Forge is offering a 25% discount on all its plans. Just enter the coupon code PET2022 during checkout to take advantage of this special offer!
Click to copy the coupon below 
Writing content is not that much challenging but when it comes to writing quality content that is SEO optimized and readers optimized is the biggest challenge most content writers are struggling at.
Are you also facing the same problem of writing content that does not rank on Google or convert your reader into buyers? If yes, you must try the Articleforge AI writing tool for your business.
The tool offers you SEO-optimized articles that you can create in just 60 seconds and will be wholly plagiarism-free and unique.
In this in-depth Articleforge review, I will walk you through all the tool's features. I will also demonstrate the tool to save the time and effort you might have to invest in finding all options in this tool.
So let's begin…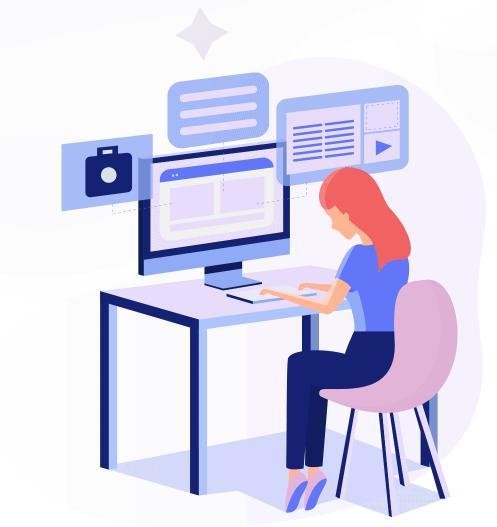 What is Articleforge AI Writer?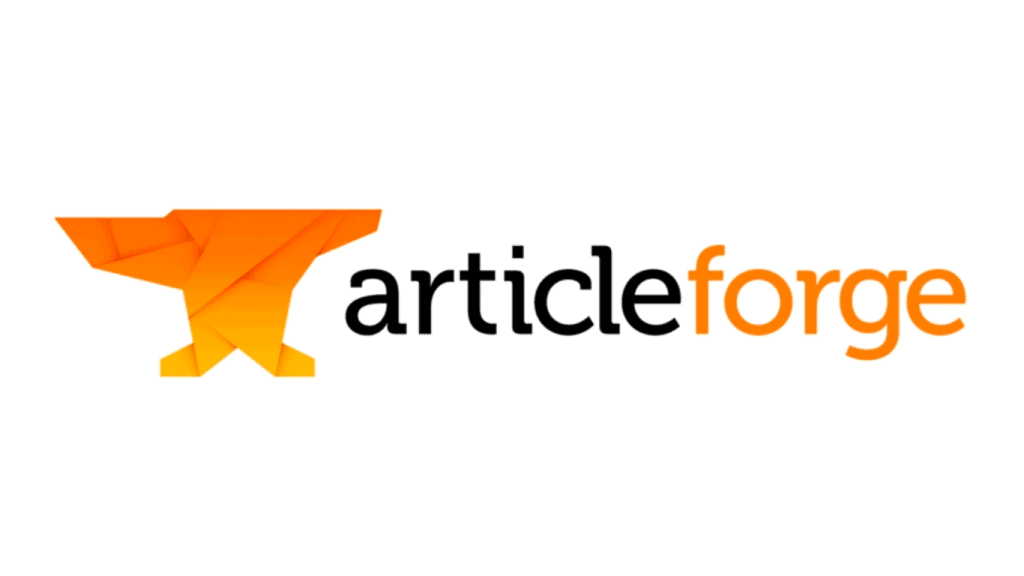 Article Forge is an AI-driven writing tool that takes care of your article creation process, helping you produce content in a fast and efficient way. If you're tired of copying and pasting, or stressing over the ability to find just the right words, then Article Forge is the tool for you.
Article Forge is a self-learning tool that helps you create articles in less time. It takes care of the writing process, so you don't have to worry about anything. Simply enter your topic, and let Article Forge do the rest!
Article Forge was initially rigorously tested by beta users before releasing it out for the world to enjoy, especially for writers, developers, and content marketers who are passionate about creating great content.
The primary goal of Article Forge is to provide entrepreneurs and business owners with a tool that helps them produce high-quality content at scale, without the help of an expensive copywriter. It is designed for people who are not native English speakers and for those who want to communicate something important about their product or service through text.
Article Forge is an AI-powered article writing tool that leverages various Natural Language Processing (NLP) algorithms to render high-quality content which passes the human eye test. Our software analyzes the context of your website and offers you content ideas based on your choice of keywords, headings, and text, etc.
Watch the Articleforge AI Review
FEATURES OF ARTICLE FORGE
Articleforge AI Pros and Cons
Undoubtedly All tools are not perfect. So, here is the list of Pros and cons that you must know before buying the Article Forge writing tool.
These are the Article for Forge's Pros and cons that you must keep in mind while buying the tool. However, the tool worked fine for me, and I would recommend you try it out yourself.
It has a 5-day free trial where you can use the tool and test it, so you get a clear idea about the tool and its use in your workplace. 
Who can use Articleforge AI writer?
Articleforge is for everyone working in the field of article writing as it helps you save money and time while writing content so you can focus on other things. However, the tool is best for the below professionals – 
How to register with Article forge for free?
Now that you know and understand the interface of Article Forge, I recommend you take their 5-day free trial to explore them and test the tool and see if it fits your business.
Follow the instructions given below to register for the tool. 
click on the Free Trial button in the right-side corner to register for the tool.
Once you click on the button, you will get the "tier" option with which you are willing to start your usage.
Pick any one of the plans as per your need.
Once you select your plan, you will be required to sign up with your details.
Post signup, you will be asked to provide your payment details. 
Note that no amount will be charged or deducted from your account during the trial version.
Once all details are submitted, you are good to go.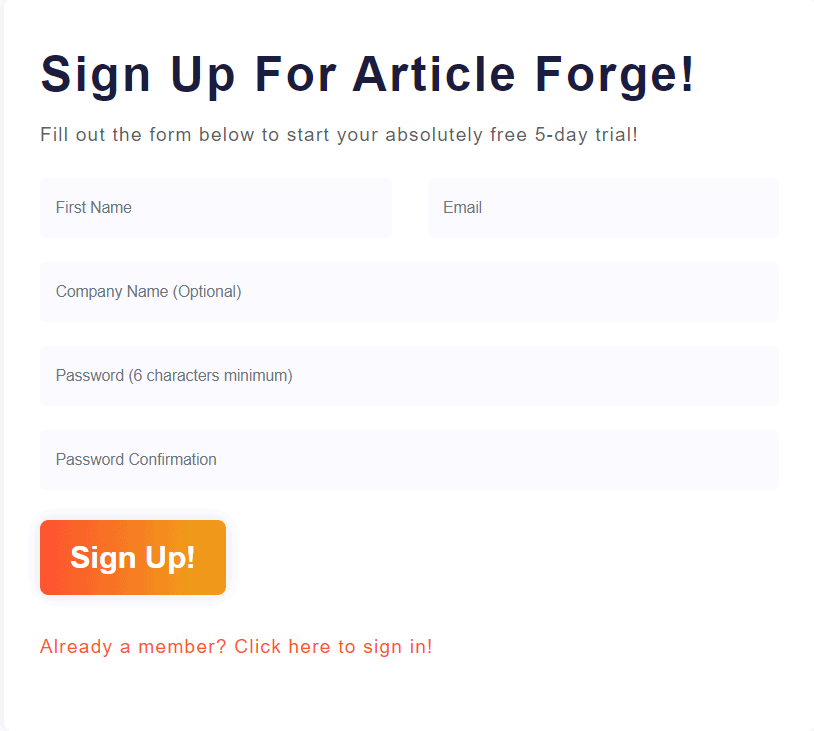 Articleforge AI Customer Reviews & Ratings
Now it's time to show you some of Article Forge's reviews from its customers

On G2, Article Forge has a 3.5 out of 5-star rating from over 13 users.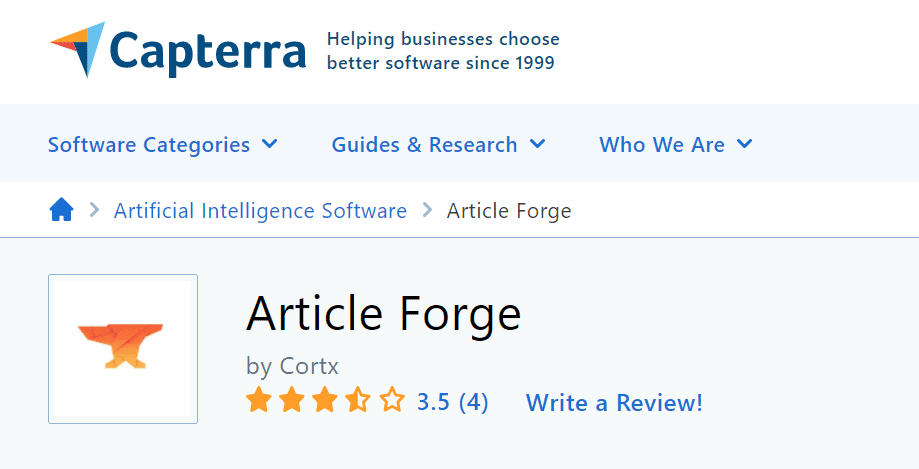 On Capterra, Article Forge has a 3.5 out of 5-star rating from over 4 users.
Articleforge is one of the latest AI writing tools available in the market that has immense scope for improvement. However, you consider the tool only for writing articles. However, the Jasper AI tool is always my first choice at this price tag.
You can also read the complete review of the Jasper AI writing tool and compare it with the Article Forge AI for more details. 
Pricing Plans of Article Forge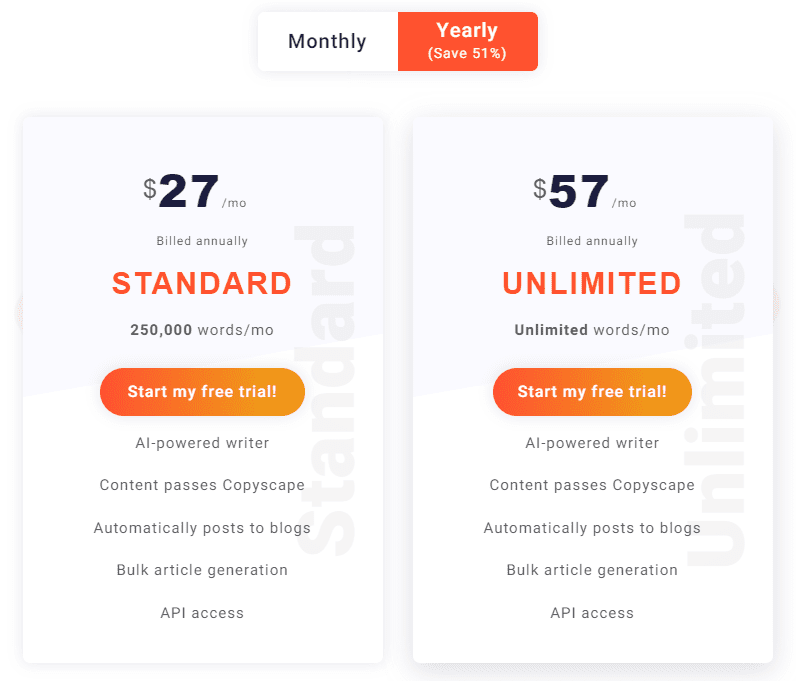 Articleforge offers you two types of pricing plans.
The Standard Plan
The Unlimited Mode
Let me help you by giving you brief descriptions of both the plans for you to choose the best as per your requirement.
The first plan Articleforge offers is a Standard plan that is best for freelancers and bloggers writing content for their own websites or as freelancers.
If you are a newbie in the content writing field and have fewer hands-on AI writing tools, I recommend you start with the Standard Plan, and once you have started getting more projects, you can upgrade the plan as per your need.
The second plan that Articleforge offers is the Unlimited Plan. If you are the owner of a digital agency or are running content writing agencies, this is one of the best plans to start with.
The Unlimited Plan offers all the features the Standard plan has. The only difference between both plans is the word count. The Standard plan has a word limit while the unlimited plan, on the other hand, offers you an unlimited word count.
The Unlimited Plan starts at $57/mo if you bill annually and $117/mo monthly. However, you can use the plan for free as a 5 days trial where you can try and test the tool before investing.
You can click here and start your 5-day of free trial without paying any amount.
If you are willing to save some amount on Articleforge, you can buy the annual plan to instantly save up to 51%, which means you get 6 months free with annual plans.
Moreover, Articleforge offers you 10,000 free credits, which you can use to test the tool, and later if you like it, you can buy their paid plans.
Moreover, the best part of the Article forge AI tool is they are providing no-questions-asked 30 days money-back guarantee. So within these 30 days also, you can claim your money back if you are not satisfied with the tool.
NOTE: For more details, kindly read their terms and conditions on 30 days money-back guarantee.
Final Verdict on Articleforge AI Writing Tool
ArticleForge is a must-have software for all bloggers who want to get more organic traffic. It is simple and easy to use, so you can create high quality content in no time!
ArticleForge is a fantastic software that can help you create quality content for your website. It is very easy to use and comes with many great features. The best thing about it is that it doesn't require any technical knowledge from the user's side.
If you want to take your website to the next level and attract more visitors, then ArticleForge is the right tool for you. With this software, you can create high-quality content in just a few minutes!
It is a tool that will help you create unique and high-quality content quickly, designed and developed with ease of use, with some great features that will help you create awesome content within minutes.
Numerous AI writing tools are available in the market, but finding the best is always a tough task. Articleforge features all that a content writer needs and it's upto you to decide whether it fits your business or not. 
Even though the tool is still in its initial days, it still has some great overall features. So, that's all in this Article Forge review.
I hope you found the article helpful. If yes, please share it with your friends who are looking for an AI writing tool. If you have any questions about the tool, let me know in the comment section and I will be happy to respond.
FAQs | Articleforge AI Review 2022
Articleforge AI Customer Support Options
The Article Forge AI writing tool has no options for live chat with the only alternative being via a contact form.  You can reach out to them by submitting a form given below. In cases of help or queries, you can fill out the form and submit it to them for the team to respond quickly.  
So if you need any help, you can fill out the form and submit them, and the team will respond after that.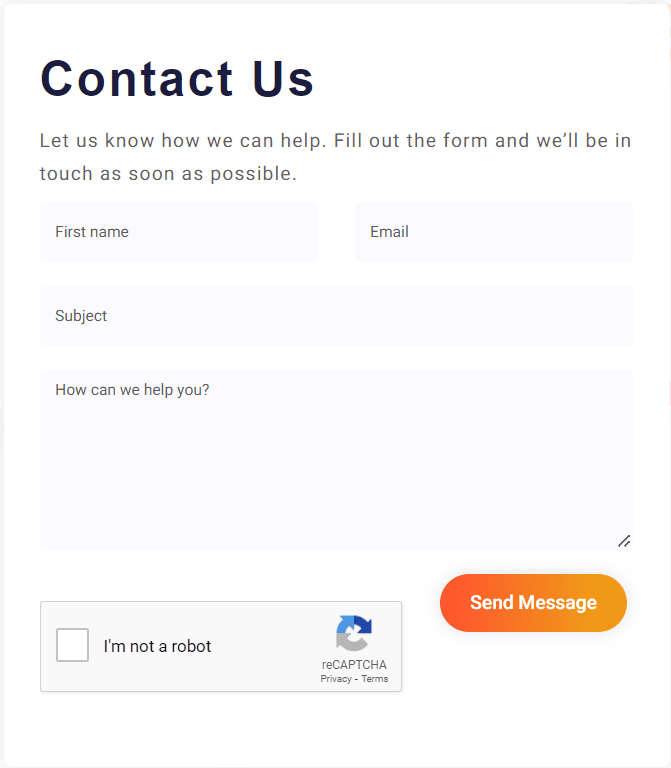 What are the benefits of using the Articleforge writing tool?
Easy to use: ArticleForge is very easy to use. You just have to enter your website's URL, keywords, and other details and click on the "Generate Content" button. The software will do the rest for you!
Top-notch content: The quality of content is extremely high as it is written and generated by high-end software designed to meet the editorial and content-based needs of people. 
Regular updates: With ArticleForge, you need not worry about updating articles yourself as it will do the job for you. The content is updated regularly so, your website will always have fresh content to attract visitors and keep them hooked! 
Convenience: The software is extremely easy to use and does not require any sort of technical knowledge to operate it. You just enter your keyword and click on the "Generate Content" button to get the desired results. 
Google has a strict policy where Google will never rank your article on their search engine if it contains duplicate content. Moreover, Google penalizes the website owners and bars the website from appearing online for plagiarizing or copying any pre-existing content.
To prevent such incidents, you must have to publish unique content to your blog that helps the customer and improves your chances of ranking on search engines like Google.
Let me help you with how you can create 100% unique content by using the Article Forge Ai tool.
Here is how you can create 100% Unique content. To begin with, it is super simple to start a blog post, as you can see in the image below. You simply have to feed in your keyword and the sub-keyword to begin the process.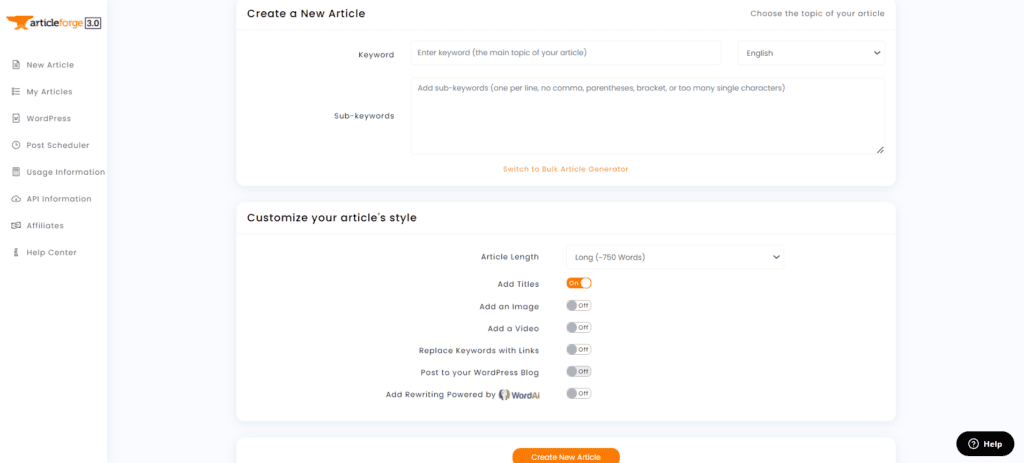 Once you insert your keyword along with the sub keyword in the next step, you will be asked to select the length of the article, and if you want to add titles, you can enable the button for the same.
You can enable similar buttons for adding images, and videos or even replacing the existing keywords with links.
Moreover, if you have a Word AI account, you can merge that with Article Forge to create excellent content.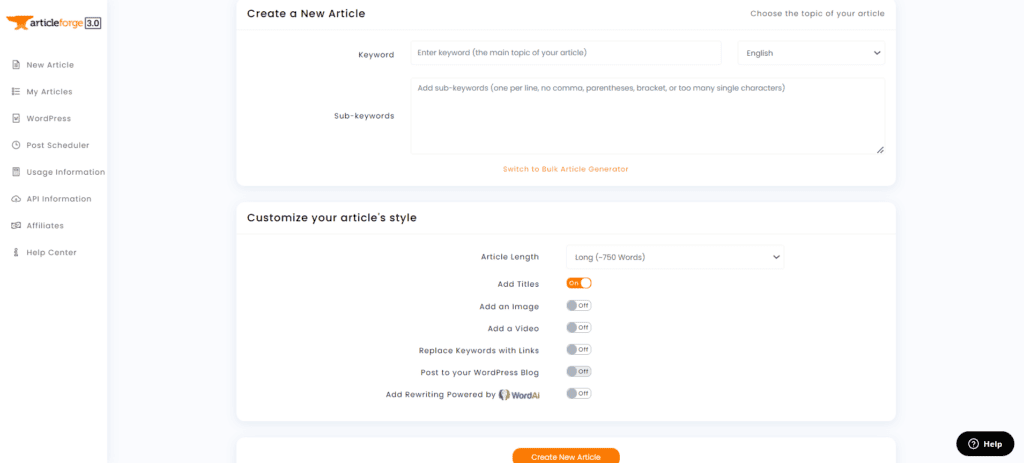 Once you are done with all the settings as per your need, you will simply have to click on "create new articles", and your article will be generated in just 60 seconds. The content quality will be similar to that of a human-written article while maintaining 100% uniqueness.
The most impressive part of this tool is its UI which is entirely different from other AI writing tools that are available in the market. Article Forge AI writing tool has a super clean interface that gives you straightforward options to work on.
As you can see in the images below, all the options are super clean and easy to use where you have access in front of you.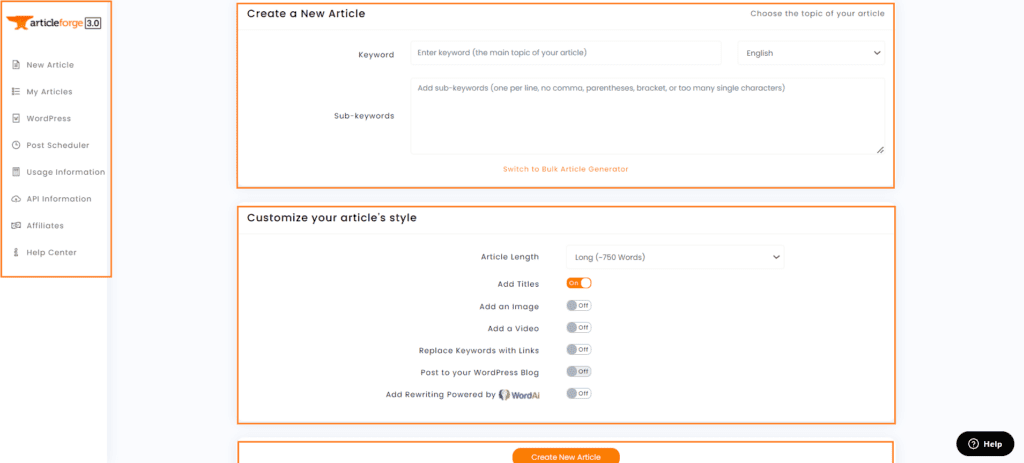 Article Forge offers you 5 days of free trial where they give you 10,000 words to use in which you can create articles for your blog post and test the tool. If all goes well, you can proceed with their paid subscriptions, or else you can discontinue.
How to create articles with Article forge?
Once your signup process is completed, you will get the tool's interface shown below, where you can access all the available options.
Here you will get your dashboard, and to create a new article, you can follow the below steps
Click on the 'New Article button. 

Enter your main keyword 

Select a language ( The tool supports English, Dutch, French, German, Italian, Portuguese, and Spanish languages)

For more SEO-optimized articles,

enter some more relevant

keywords.

Select the length of the article. If you need a short article, you can select a short article that generates

about 250 words

and you can select the medium and long lengths based on your article's urgencies.
Moreover, you can also add titles, images, videos, and links as per your article's requirements.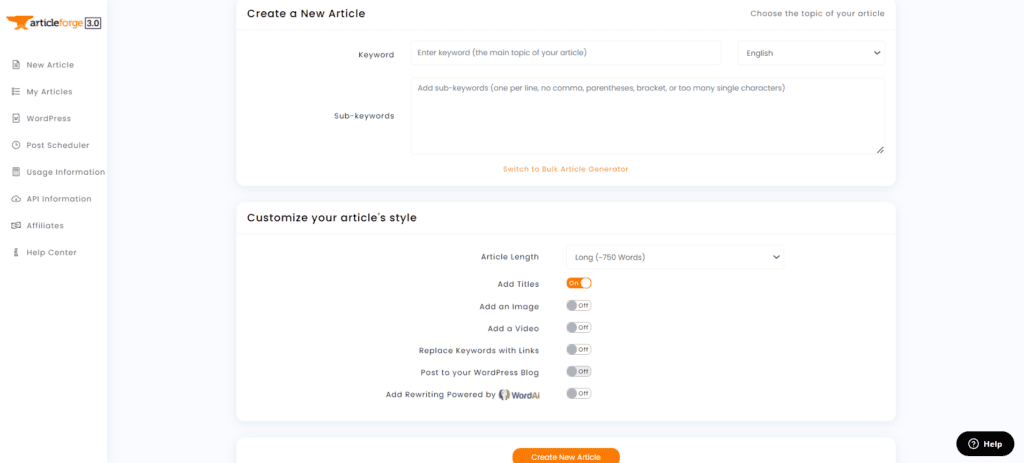 Content Quality of Article forge?
Now that you know how you can easily create content with the help of Article forge, it is time to review the quality of content that Article forge produces.
Here is an article that I have generated with the help of Article forge that includes all the settings and inputs that I have personalized my article with 
Keyword: How to earn money from blogging in India
Sub-Keyword: How much do bloggers earn in India & Can I earn money by blogging?
Article Length: Long (~750)

To generate the complete content, it took almost 1 whole minute of what they mentioned on their website. Post that, as you can see in the above image, it will provide you with an option that says "Click here to see the result!" which will take you directly to the final results of your article.
Here is the content that I got.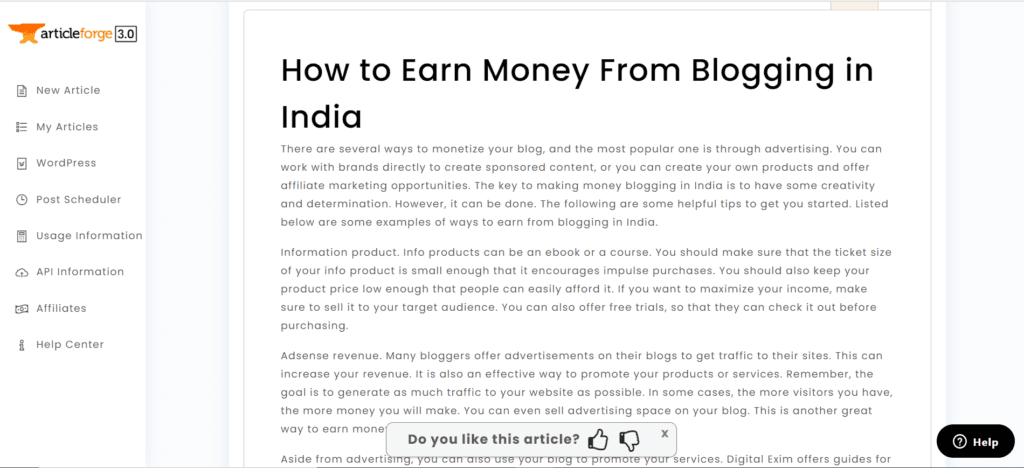 The total word count that  I got is 713 out of 750, which they have mentioned. Moreover, there was one grammatical error, which is entirely ok with me, and it took me around 10 additional minutes to make some changes myself to make the article presentable and perfect.
So I would say it took me around 15 minutes to generate a quality article of 700 words which is completely fine as compared to hiring third-party writers or finishing the job myself. 
However, the only thing I found that is not the place is its plagiarized content. I ended up finding 2% plagiarism in the final article produced by Article Forge. 
Options with Articleforge
The AI writing tool features an additional option that is to export your article in various formats like PDF, TXT, or HTML. Moreover, you can also automatically post to your WordPress (Self-hosted) blog to save your time and effort of copying from the tool and posting it there, in your WordPress blog.
How to rewrite articles to improve the quality of content with Article Forge?
The Article Forge AI offers you to merge the WordAi account with them, where you can rewrite your same articles in 10 different but unique versions. So if you happen to have an account in WordAi, know that you can enjoy plenty of rewriting options.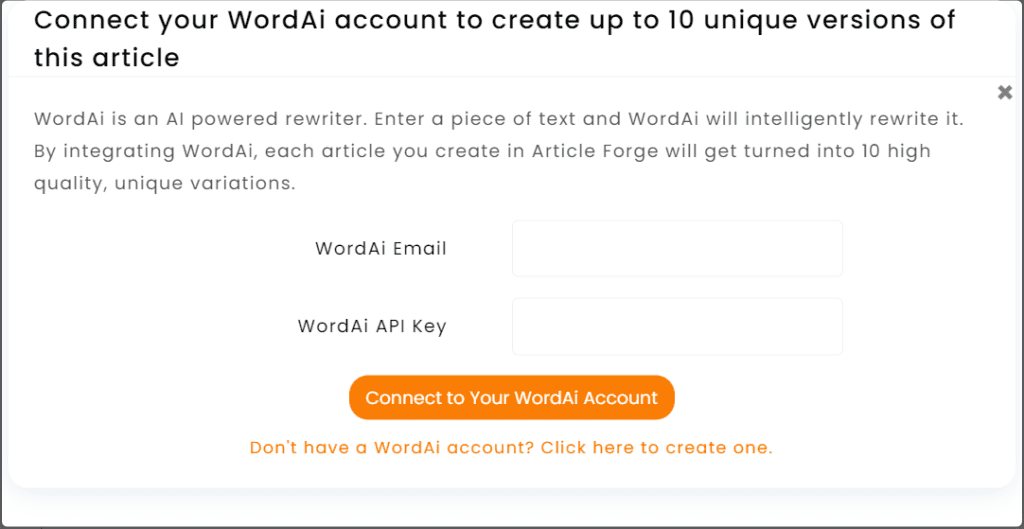 To connect your WordAi account, you will have to provide your registered email id of the WordAi account and the API.