Narrato AI Writer Tool Review 2022
AI Writer Can it write better than human?
Reading Time: 8 Mins | Author: Ravi Varma
A lot of people are looking for a platform that fulfills all of their content necessities, all in one place. If you're tired of spending hours trying to find the right tools to help you manage your content and publish it across all channels, then look no further. We've got you covered! Narrato.io is a powerful project management software that makes it easy to manage projects from start to finish with multiple tools and features. You can now plan your content, execute, track, and manage projects all from the same workspace without any worries. 
Curious to find out how it works? Let's get into this detailed article that will give you a clear insight into Narrato, its amazing features, and how you can leverage it for your work.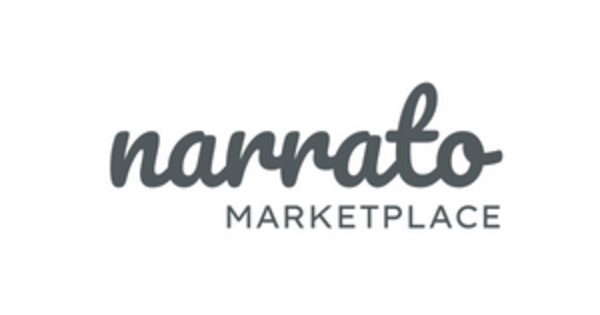 Narrato is a handy and all-inclusive content generation platform that is designed and developed to cater to the content exigencies of companies, businesses, agencies, and marketers. It offers an assortment of features and tools that include a grammar checker, plagiarism checker, sheets, docs, messenger apps, dropbox, content planners, and more. With Narrato, you can generate and distribute content without having to pay for expensive tools or software as it ensures better prolificity, quality, and time management in the process of generating content. Narrato offers amazing features that come at a cost-effective price in comparison with similar tools. It is also backed by an AI content writer that can help you generate high-quality content belonging to any niche and topic that is highly optimized and SEO-friendly as well. Narrato is a great workspace to team up, collaborate, exchange ideas, formulate and publish with easy to use interface and confluence.
AI Content Assistant & Editor
SEO Friendly Content Editor
Content Suggestions & Research
Project management & Content workflow
Narrato AI Tool Pros and Cons
All tools are not perfect. So, here is the list of Pros and cons that you must know before buying the Outranking AI tool.
Who can use the Narrato AI Tool?
Narrato.io is designed to help you speed up your work with the highest quality of content generation. You can use it to generate a variety of content, such as blogs, social media posts, ebooks, and more quickly and effectively. You get to manage your teams and workflows making it ideal for businesses, freelancers, and anybody who is looking to invest in a one-stop solution for content-related necessities. 
Content marketers – Content marketers can use Narrato to create better content for regular use. 

Marketing teams – Teams can easily collaborate and discuss content strategies for campaigns. 

Agencies – Narrato lets you assemble your entire work team in a single platform with a seamless workflow. 

Content publishers – You can manage your entire team of publishers and writers with Narrato to be able to improve your content work and publish it as per a schedule. 

Website developers & designers – As a web developer and designer, you can easily collect and get the content written and delivered for your website via Narrato.
UNIQUE SELLING POINTS OF NARRATO AI WRITER
You can run grammar checks and readability checks in over 50+ languages. 

It is a comprehensive platform that lets you create, collaborate, plan and strategize content all in one place. 

You can request a free demo to find out more about Narrato before signing up for it. 

You can get customized notifications via the Narrato app itself or email. 

You get access to the Kanban board as a part of content planning features where you can easily implement kanban to manage and execute your workflow. 

Narrato comes with many in-built content tools without having to look it up separately. 

Collaborate with your teammates easily via messaging and commenting on the platform. 

You can add media or graphics of your choice to beautify your workspace or dashboard. 

Hire the best writers from across platforms with unlimited revisional options and pay only upon successful satisfaction.
Narrato AI Tool Customer Reviews & Ratings

Narrato is a fantastic tool for teams to work together. You can easily keep track of all your content in one place and delegate roles to other users. Using Narrato, you can easily assign roles to different team members so they can update the document. This makes it easier to coordinate your content with each other. With Narrato, you can also easily create content and organize them into folders. I am loving this tool.
Narrato is super easy to use and manage. It allows you to create custom dashboards that show you exactly what you want to see. Narrato is also very easy to learn which made it easy for me and my team to learn and use it effectively. You can get up and running with Narrato in just a few minutes. I personally love Narrato for me and my team to coordinate and work.
It is one of the best choices for small to medium sized businesses. Narrato is extremely easy to use and configure. It has a built in search engine, a blogging tool, a social media integration tool, a contact management system, and a powerful content management system which is all we require as a marketing agency. I am super impressed with Narrato and have been using it for 4months now with absolutely no complaints.
I have tried many article writing software but I can say that this is the best one. It has helped me a lot and I am very happy with it. I highly recommend this product to anyone who wants to make money online by writing high quality articles." -Ahmad Hussain "This is the best article writing service that I have ever used.
Narrato AI Tool Pricing Plans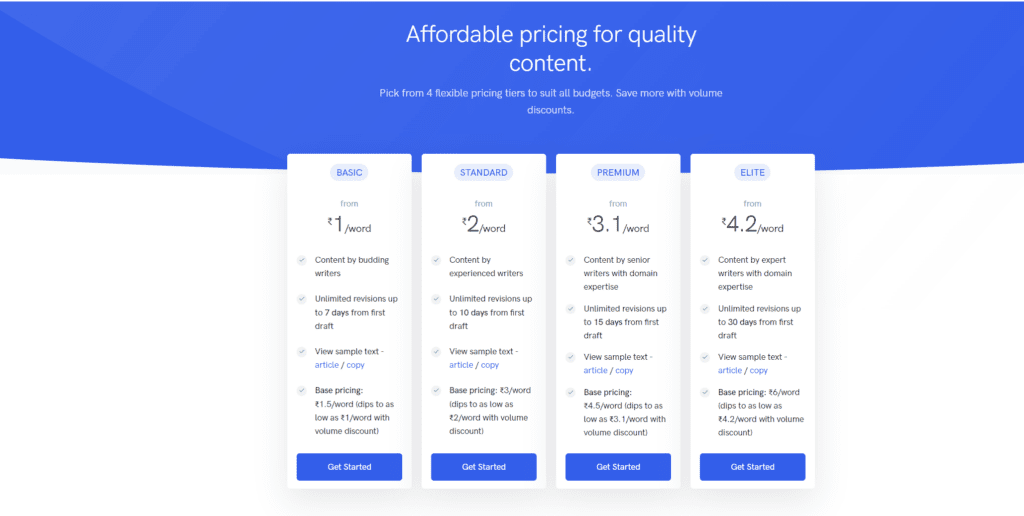 | BASIC | STANDARD | PREMIUM | ELITE |
| --- | --- | --- | --- |
| | | | |
| Content by budding writers | Content by experienced writers | Content by senior writers with domain expertise | Content by expert writers with domain expertise |
| Unlimited revisions up to 7 days from first draft | Unlimited revisions up to 10 days from first draft | Unlimited revisions up to 15 days from first draft | Unlimited revisions up to 30 days from first draft |
| View sample text - article / copy | View sample text - article / copy | View sample text - article / copy | View sample text - article / copy |
| Base pricing: ₹1.5/word (dips to as low as ₹1/word with volume discount) | Base pricing: ₹3/word (dips to as low as ₹2/word with volume discount) | Base pricing: ₹4.5/word (dips to as low as ₹3.1/word with volume discount) | Base pricing: ₹6/word (dips to as low as ₹4.2/word with volume discount) |
Final Verdict on Narrato AI Writing Tool
Narrato is one of the most affordable and useful tools in today's market. Despite it being in the developmental phase, it still has some amazing features that pretty much fill up all your content-related requirements. I must say that it is one of the best platforms that offer multiple options to coordinate and collaborate with your team to effectively manage and handle your content and tasks that can also be stored in the same place. it is a one-stop destination for all content emergencies with a wide range of features and qualities. In conclusion, Narrato is a powerful tool that is not only affordable but also a great way to keep track of all your data, you should give it a try, and trust me you won't be disappointed.
FAQs | Narrato AI Tool Review 2022
Narrato AI Tool Customer Support Options
Narrato has a dedicated page for customer support on its website. You will simply have to fill out the contact form that they have and reach out to them with your queries. They usually respond within a fair amount of time.