Friday AI Writer Tool Review 2022
AI Writer Can it write better than human?
Reading Time: 8 Mins | Author: Ravi Varma
How many times have you struggled to find the time to write a new article, blog post, or email newsletter? I've been there too. It's a constant struggle to find the time to write, let alone publish it. But what if you could write an article in just minutes, every single day? What if you could write a new blog post in just a few hours? The good news is that you don't need to spend hours every day researching the latest trends or writing blog posts. There are plenty of tools available that will help you automate your workflow, allowing you to focus on important tasks like marketing, social media, and customer support. We've found the best tools for bloggers and writers here, so you can save time and effort. This is a detailed review of HeyFriday, an AI writing tool, to help you understand how it works so you can use it to get your blog posts out on time, without any stress.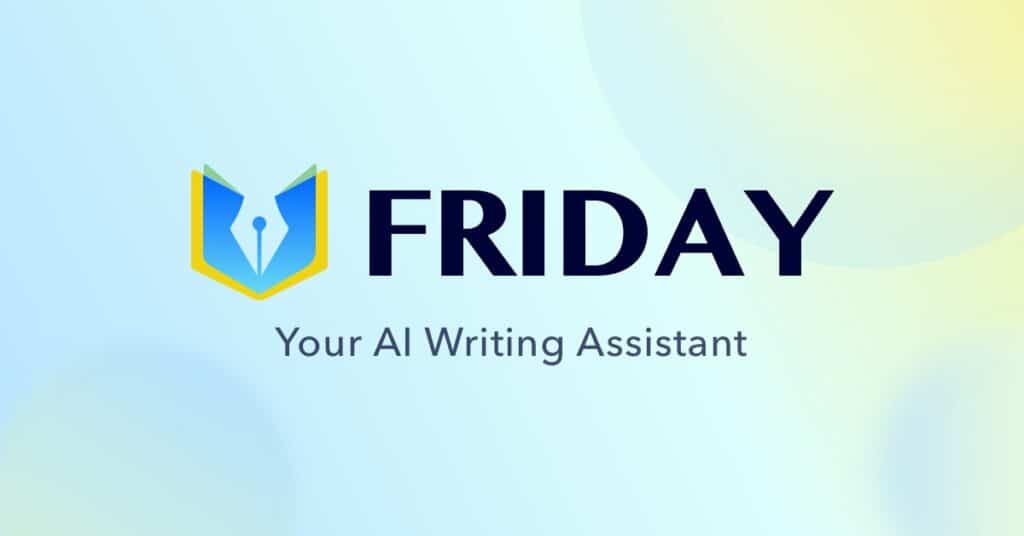 Friday is an AI writing tool that can be used to pen down a wide range of written posts and documents, including blog articles, emails, ad copies, social media headlines, captions, and more. HeyFriday is an AI writing tool that is designed to help writers write better. With Friday, you can turn your ideas into great pieces of content of your choice that can be published on any given platform. It is a machine learning-based writing tool that analyzes the structure of your writing and then generates new, interesting content for you. You get to experiment with the output of your content by simply entering a basic prompt or description relating to the topic of your choice. HeyFriday was created to develop the best writing tool that can cater to all types of audiences with ease of use. It is run by a team of expert professionals who are skilled and qualified, guided by a former NLP scientist who has previously worked for Google. They work on making Friday a top tool with the cumulative efforts of some of the best NLP Algorithm engineers. HeyFriday in every way works on bettering the writing process for content users, writers, and more by offering templates and exemplars that are freshly upgraded and sought after. There's so much you can do as a writer with the Friday AI writing tool.
Watch the Friday AI Review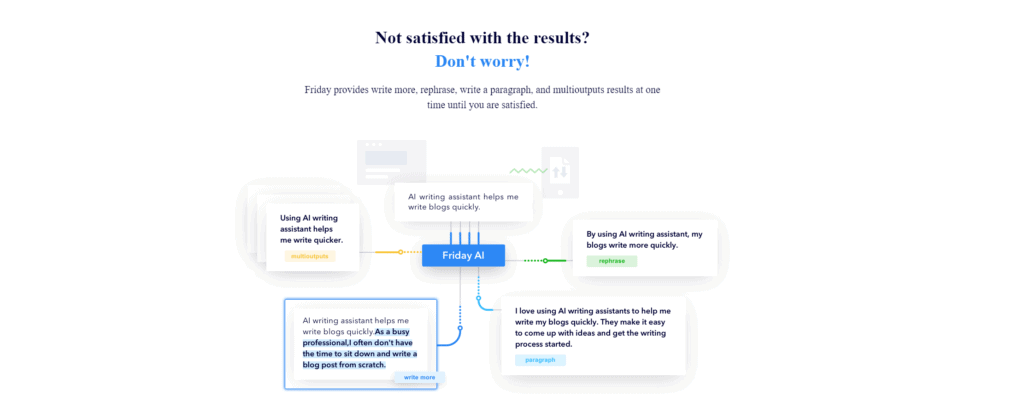 Templates: Friday offers a wide range of templates of 40 that cover an extensive range of content generation forms that include social media captions & descriptions, blog ideas & outlines, blog articles, video scripts, emails, and much more. 
Use cases: There are broad use cases that come with Friday. You can simply pick the one that best suits your requirement and use it to generate relevant content. 
Magic Command: Friday comes with an interesting feature called the Magic Command which allows you to give the tool a command of your intent which prompts the writer to generate content accordingly.  
Usage Tracker: You will find a usage tracker on the dashboard of your account on Friday which shows you exactly how much you've used the tool along with the dates and number of wordings generated.  
Free Referral: Friday also gives you a chance to earn credit points by simply providing you with a personalized referral link that you can use to grow your credit score if and when people sign up with the tool via your link. 
High-speed performance: Friday can generate up to 500 words per second, making the entire process time-saving and quick. 
Cost-effective: Friday is one of the cheaper and budget-friendly AI tools that comes with excellent output as compared to its competitors. 
Frequent Upgrades: The makers of Friday come up with constant and regular updates in the tool versions that promote more interesting features. 
Customization: The tool lets you create your template which will also be made available for other users to use and experiment with. Data Master – Friday offers a keyword selection option that is completely data-driven and verified. 
Multi outputs: With Friday you get the option of multi results that lets you generate variants of a given piece of content. 
Use Cases of Friday
Friday offers multiple templates of over 40 different use cases that you can pick from. The use cases are categorized into 9 respective sections for a better understanding and usage. 
Advertisements

E-Commerce 

Social Media 

Blogs 

Frameworks 

Emails 

Video 

General 

Website 
Friday AI Tool Pros and Cons
All tools are not perfect. So, here is the list of Pros and cons that you must know before buying the Outranking AI tool.
Who can use the Friday AI Tool?
HeyFriday.ai as the name suggests is an AI-backed writing tool that can be used to create and produce excellent content in a short period. It is an impressive tool that can be leveraged for multiple content-related necessities. You can use Friday to create blog posts, email copies, video scripts, advertisements, product descriptions, social media posts, website content, and more. 
YouTubers: You can easily create everything from video scripts, video headlines, taglines, descriptions, titles, and more for your Youtube videos and documentaries. 
Business owners: Create engaging and promising product descriptions and interpretations of your business to draw and engage with your customers. You can also use the frameworks to ideate marketing plans for your business. 
Marketers: Write email copies with catchy headlines and subjects that can immediately grab the attention of your audience along with SEO-optimized content for better search results. 
Affiliate marketers: Market your products uniquely and interestingly with relevant captions. 
Students: You can easily use the "General" template to finish up your assignments with better writing assistance. 
Freelancing writers: Friday can help speed up your work with top-quality client deliverance.
UNIQUE SELLING POINTS OF FRIDAY AI WRITER
It offers a "Magic Command " option which is unique and interesting wherein you can type in your command and watch the writer do the job for you.  

You get a personal crest score in your Friday AI account along with a referral link that can earn you the brownie credit points. 

Friday AI is backed with a robust team of professionals who have high end working experience in top companies. 

You get multiple use cases that are frequently for content generation used to ease your work. 

Friday offers many customization options and input methods for a better content generation. 
Friday AI Tool Customer Reviews & Ratings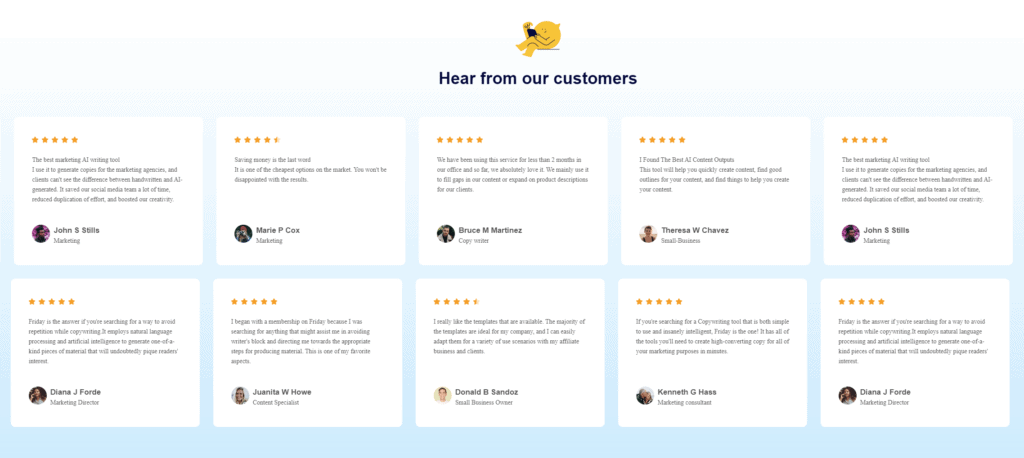 I really enjoyed using the HeyFridayAI writing tool. It's very fast, and it can write and create documents with just a few clicks of the mouse, and it's quite easy to use. It's a good writing tool for people who want to write, but don't have much time to write.I would recommend it to anyone who wants to write short pieces, articles, reports, etc.
It's very simple and easy to use. There are many features but I majorly use it for my assignments and college work. It can make your life easier by helping you write sentences. You can always try it out before you buy it with its free version. I use the HeyFriday AI writing tool in all my classes to get assignments done. It's fantastic!
This was a very good tool and is the only one that I have used so far that was able to write my book the first time and I have since tried 2 other tools and they both failed to complete the task. It has no issues with grammar, punctuation, spelling, or capital letters and was a great learning tool for me to use. My wife is using it to write her book and it has come up with over 3000 words in the past few days.
Friday AI Tool Pricing Plans

| Free Trail | PRO | POWER |
| --- | --- | --- |
| For the hobbyist just getting started | For bloggers & content marketers | |
| | | |
| | Everything in Free Trial plus | |
| | | |
| | | |
| | | |
| | | |
| | | |
| | | |
| | | |
Final Verdict on Friday AI Writing Tool
All in all, Friday is a very affordable and simple-to-use AI writing tool. It is the most user-friendly tool that I have used. This tool has been specifically designed and developed to help people write more effectively and is a great tool for those who are looking for a simple, quick, and efficient way to write articles or any kind of content. This AI-based tool would be ideal for people with a minimum budget who want effective and extraordinary content to be generated within minutes. it may not offer features that its competitors are but promise to deliver quality services while updating its features for a better consumer experience. I was impressed and satisfied with its performance and would recommend you give it a try to see where it best fits in your schedule. You can also find out more about other AI writing tools to compare and test out the other feature-driven tools in the market.
FAQs | Friday AI Tool Review 2022
Friday AI Tool Customer Support Options
Friday offers customer support to help address any issues you may have with the tool. 
Email support: You can send in your queries via friday@heyfriday.ai 
Discord support: you can also join their discord for queries regarding Friday. 
Whatsapp support: You can simply click on the Whatsapp button that is displayed on their website and reach out to them for support.