Is the text builder ai lifetime deal worth it?
Reading Time : 10 Mins | Author: Ravi Varma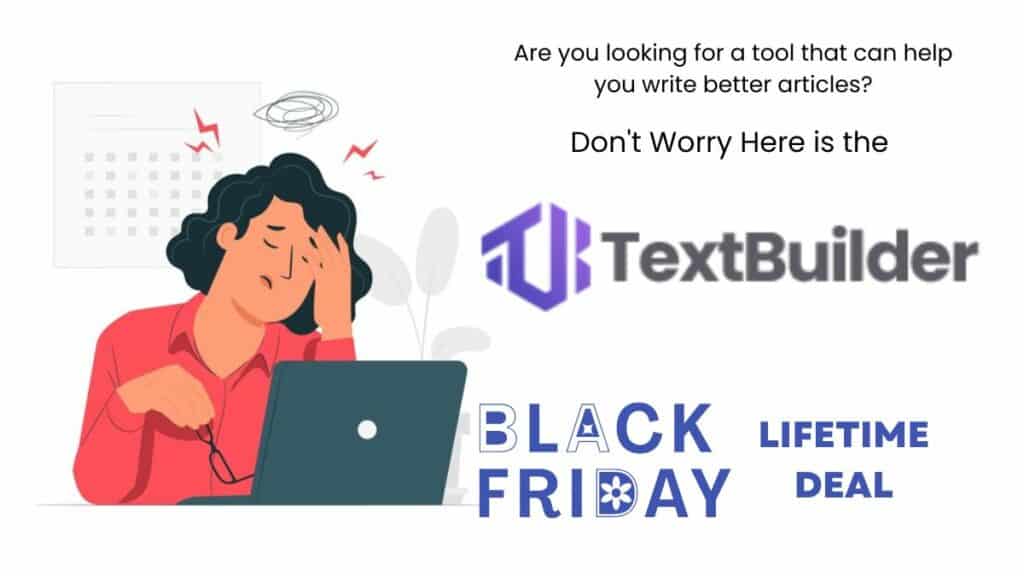 Writing blog posts can be one of the most time-consuming tasks you'll ever have to do. It's a skill that requires a lot of practice and dedication. 
If you're anything like me, you probably have a lot of ideas about how to improve your writing skills—but you don't always know where to start.
If you want to write high-quality content and need a way to save time and energy, then TextBuilder.ai is the perfect tool for you. 
It allows you to write great content in a fraction of the time it would take you to do so manually. 
The first ever Drag & Drop text builder for Affiliates! Create lengthy, excellent articles and reviews with a single click.
Increase your blog's affiliate revenue by writing. – Long-form text provider for bloggers and copywriters Write original and creative text 10 times faster.
You've always needed an AI writing assistant, and now you have one. Text generator for commercials, websites, and companies that is incredibly quick. 
Enter information to produce lengthy, high-quality advertisements, blog introductions, outlines, business growth suggestions, and more.
This article gives you a detailed review of how to use TextBuilder.ai to automatically generate your blog posts and save you time and energy when you're writing a post.
What is TextBuilder? - TextBuilder Review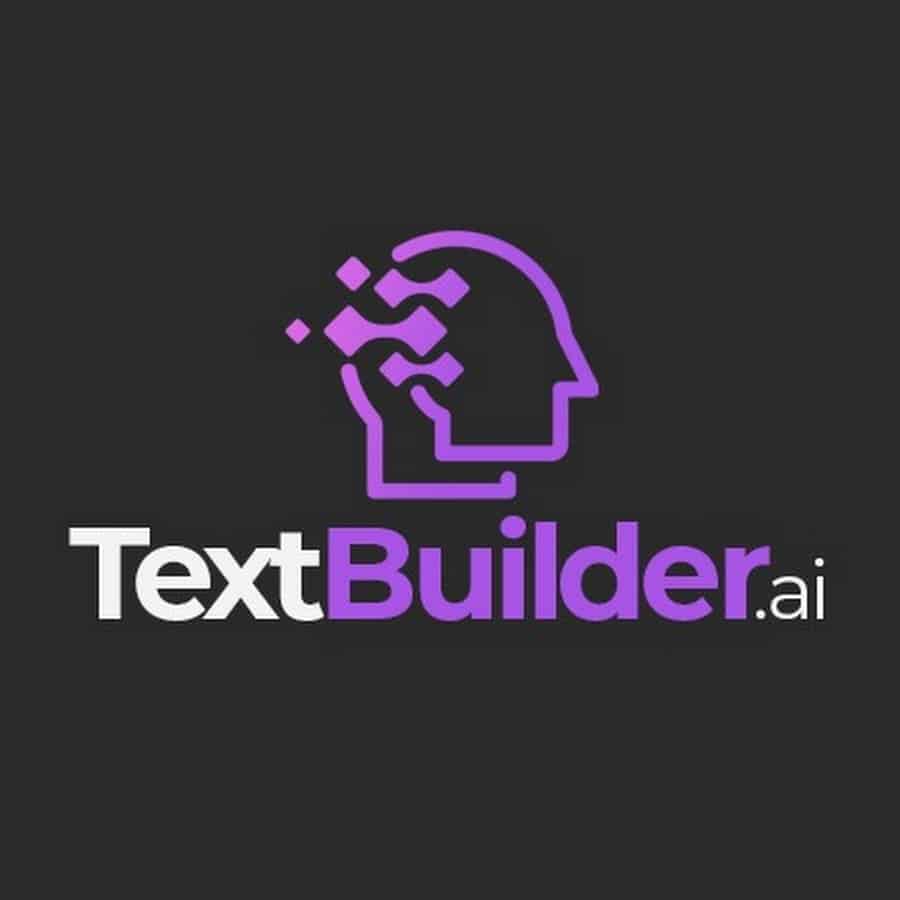 TextBuilder is an AI-based writing tool that lets you write content that is of high quality with precision and speed.
It uses the latest technology of AI which runs on accelerated GPU Cloud Servers.
TextBuilder can help you generate quick results of content within 2-5 seconds with the content type of your choice. 
It is easy to use with efficiency and quality that can get you to rank on Google.
 TextBuilder is an advanced AI writer that is perfect for marketers, bloggers, and people who work with content generation. 
It is one of the many affordable AI tools in the market that offers multiple content aids and formats that can be used for different purposes. 
TextBuilder is a definite substitute for Jasper, WriterZen, and Rytr. me and more.
Watch the Textbuilder Review
TextBuilder Lifetime deal Features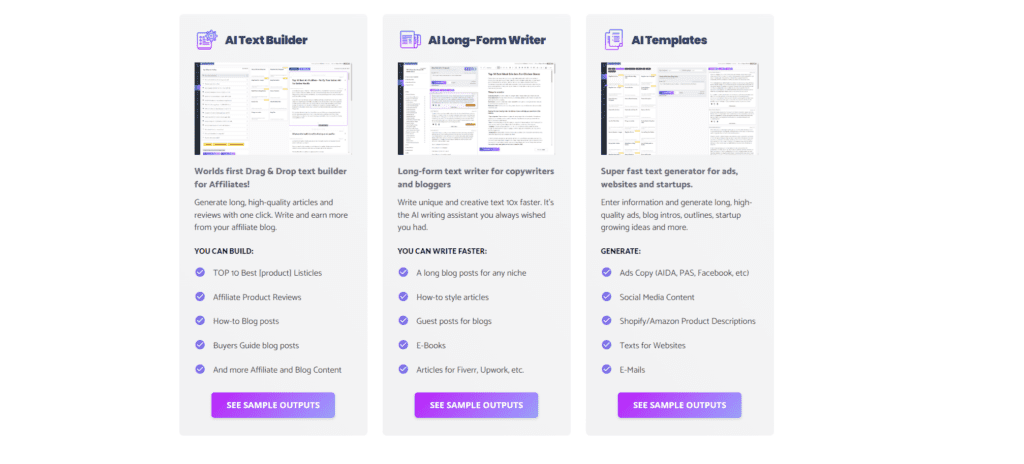 TextBuilder is packed with features that are easy to use and highly advantageous for people who work with content on a regular basis. 
Some of the promising features that TextBuilder offers includes


Templates offered by TextBuilder
Top 10 Best [product] Listicles

Affiliate Product Reviews

How-to Blog posts

Buyers Guide blog posts

more Affiliate and Blog Content

A long blog post for any niche

How-to style articles

Guest posts for blogs

E-Books

Articles for Fiverr, Upwork, etc.

Ads Copy (AIDA, PAS, Facebook, etc)

Social Media Content

Shopify/Amazon Product Descriptions

Texts for Websites

E-Mails
Why Choose TextBuilder lifetime deal?
TextBuilder AI Tool Pros and Cons
(TextBuilder Lifetime Deal)
Who can use the TextBuilder AI Tool?
Who should buy textbuilder lifetime deal?
TextBuilder.ai is a perfect Ai tool that works well with efficiency, speed, and accuracy. It is ideal for 
Affiliate Marketers: It is a perfect tool for affiliate marketers as it helps you generate excellent affiliate content that will get you the desired leads. 
Product Reviewers: Amazon affiliates and product reviewers can leverage TextBuilder to write excellent reviews. 
Ad Experts: Ad experts can use TextBuilder to beautifully craft their ads with creative ad copies. 
Bloggers: Bloggers can get convincing content written via TextBuilder that is of high quality and will also rank.
Unique Selling points of TextBuilder Lifetime deal
TextBuilder holds the capability to generate high-quality content within seconds. 

The AI is backed with high advanced GPT3 Neox which works on generating unique content.

It produces SEO-friendly content that is concise and can help you rank on the search engines. 

TextBuilder is one tool that highly supports and coordinates with the concept of Affiliate, making it very easy and convenient for affiliate marketers. 

The team of TextBuilder ensures regular updates in features and templates, making it even more handy and accessible. 
New Updates in TextBuilder lifetime deal for Black Friday 2022
For Amazon Associates, good news…
Here is a new template for product reviews: Why You Should Think About Purchasing This Product. providing a very lengthy output (from 160-230 words with one click)
The template creates extremely long text on the features of the item that begins, "Before purchasing a nice Bluetooth speaker, here are some features you may want to understand:"
A list of the product's various features is shown.
every time. All of this text is available by simply copying and pasting an Amazon product title!
Amazon product titles should be longer. Results improve with longer titles.
Textbuilder ai vs Jasper - (Textbuilder is no less than jasper)
| Features | Textbuilder | Jasper |
| --- | --- | --- |
| | | |
| | | |
| | | |
| | | |
| | | |
| Assisted Content Creation | | |
| | | |
| | | |
| | | |
TextBuilder lifetime deal Reviews & Ratings (from existing clients)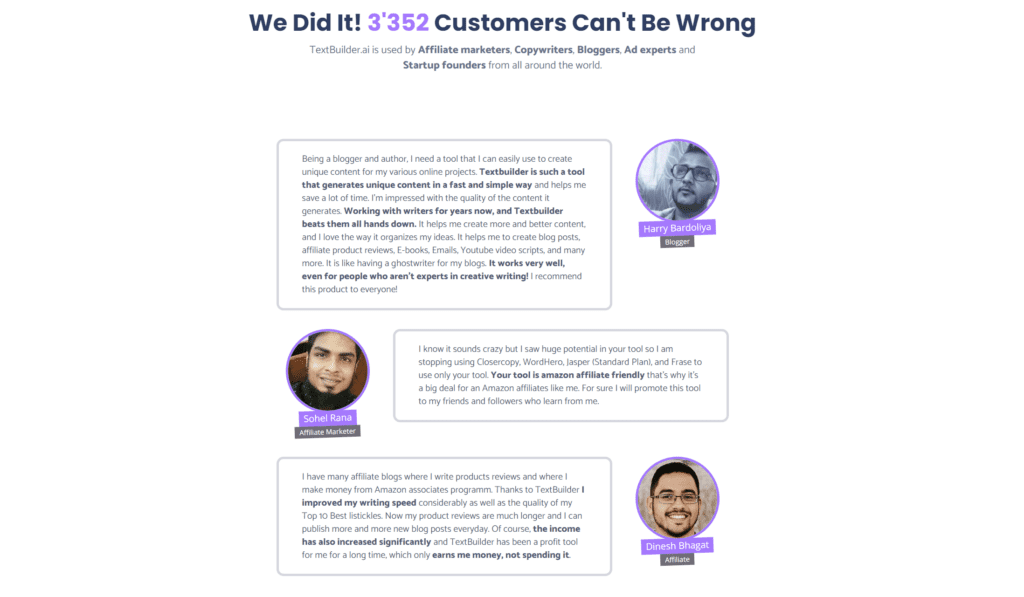 "It's a great software, and I have been using it for a while now. I am really happy with the results. The articles are well written and provide good value for money. The system is easy to use but takes a little bit of time to get used to it. Overall, I am very impressed with this product and would highly recommend it!''
"I am very happy with the product. The articles are good and they have helped me achieve my goals. The system is easy to use, but it takes a little bit of time to get used to it. I don't think you can find this kind of quality anywhere else at the same price point."
I was skeptical at first but the software is great. It helped me write a lot of articles that I would never have been able to write myself. The content is high quality and you can use it for any kind of niche. I highly recommend this product!
I have tried many article writing software but I can say that this is the best one. It has helped me a lot and I am very happy with it. I highly recommend this product to anyone who wants to make money online by writing high quality articles." -Ahmad Hussain "This is the best article writing service that I have ever used.
| Assets | Resources |
| --- | --- |
| | |
| Latest Lifetime Deal Link | |
| | |
| | |
| | |
| | https://www.facebook.com/groups/textbuilder/ |
| | https://www.textbuilder.ai/blog/ |
| | https://www.textbuilder.ai/contact/ |
| | |
| | |
TextBuilder AI Tool Pricing Plans
Textbuilder Lifetime Deal:
This offer should not be missed. They are offering a temporary LTD plan under which you would get 30,000 words each month.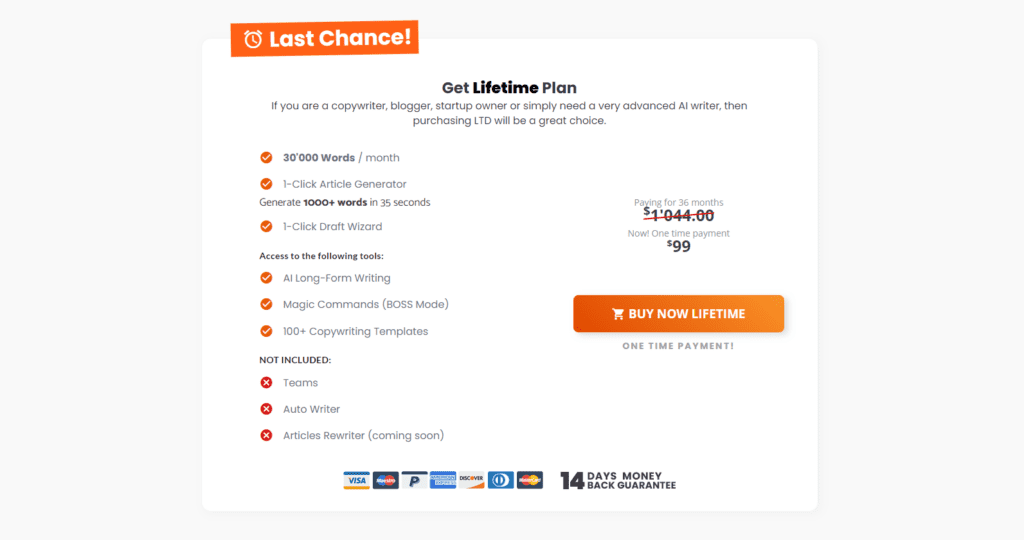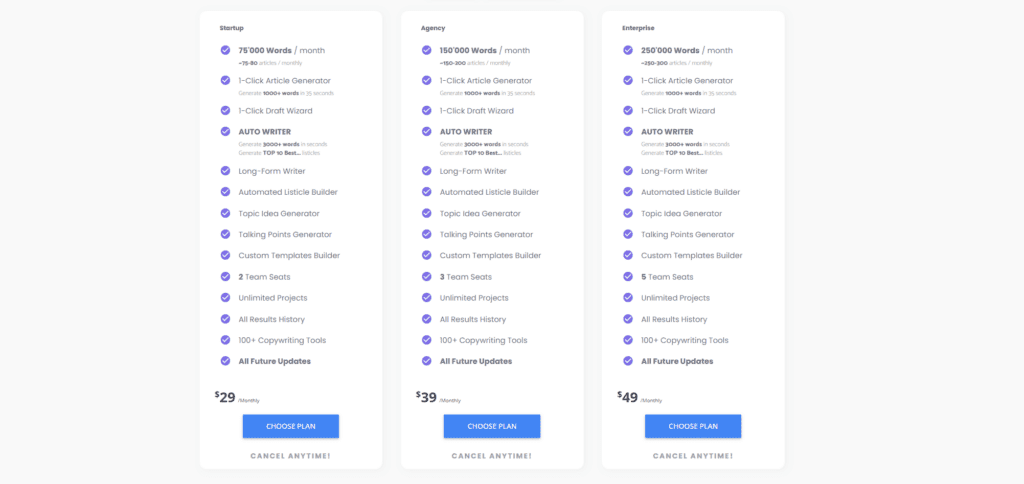 | Startup | Agency | Enterprise |
| --- | --- | --- |
| | | |
| | | |
| 1-Click Article Generator | 1-Click Article Generator | 1-Click Article Generator |
| | | |
| | | |
| AI Text Builder + ReGenerator | AI Text Builder + ReGenerator | AI Text Builder + ReGenerator |
| Automated Listicle Builder | Automated Listicle Builder | Automated Listicle Builder |
| | | |
| | | |
| | | |
| | | |
| | | |
| | | |
| | | |
Final Verdict on TextBuilder Lifetime deal
While some people think that TextBuilder is only good for those who want to create content for the web or blog, it is a tool that can be used for a wide variety of purposes. 
It can be used to create any kind of content, whether it is text, articles, web pages, or any other type of content that you want. Some people believe that it is not possible to write high-quality content with the help of AI tools by completely relying on it. 
TextBuilder is set to prove them wrong. I would recommend TextBuilder as it is extremely beginner friendly and accurate when compared to its competitors. 
While it lacks a few basic features, it still makes up for it by offering unique features and services that can greatly improve your content and the team of TextBuilder is always working on bettering their game by introducing new updates regularly. 
I Would insist on giving it a try as it is uncomplicated and easy to use. 
FAQs on TextBuilder AI Tool
TextBuilder AI Tool Customer Support Options
Email support: You can get in touch with the team of TextBuilder by reaching out to them at  support@textbuilder.ai 
Contact Form: They also provide a content form wherein you can fill in your name, and email address along with your concerned query.
Support Ticket (Members Only):  You can submit a support ticket only if you're an existing member, needing support with the tool.