How to use rytr? Complete Tutorial
Reading Time: 9 Mins | Author: Ravi Varma
Before going to the Review,
Let me tell you.
Rytr Me AI Writer is now offering a whopping 2 Deals in Black Friday Deals
Use AIWRITE Promo Code to This is a sale with an exceptional discount of 49% off the original price. The sale will last until Cyber Monday, so don't miss out!
Use NEW30 promo code NEW30 will grant you a 30% discount on any plan and also give you 1 month of free service for signing up for a 6-month subscription.
Click to copy the coupon below 
Are you looking for a low-budget AI writing tool that can generate the same result generated by expensive writing tools?
If yes, then here I am with the Rytr ai writing tool review that you can go with with a limited budget and are entirely new to content creation.
In this in-depth review, I will walk you through all the features that the tool offers and how you can create some engaging content that is similar to that generated by tools like Jasper or Copy AI.
So without any further delay, let's start…

What is Rytr Me AI Writer?
RYTR AI Writer is a completely automatic writing tool that allows you to think about the content, rather than how to write it. It applies natural language processing (NLP) technology to extract key patterns from any text and then recreates them, allowing you to go on personal journeys as your words come alive on the page.
RYTR AI Writer is a revolutionary tool for writers as you can create engaging stories, articles, and novels with ease by simply providing some basic information about your story or article.
The program will then use natural language processing (NLP) technology to extract key patterns from any text and recreate them in your voice.
It's a tool that helps you write faster and smarter, with less effort. It will save you time and help you create better content. RYTR AI can be used to create full-length novels, short stories, or even poetry. It's a fun tool for writers of all levels, from beginners to experts.
When you use RYTR AI Writer, you'll be able to write more efficiently and effectively than ever before. The technology used is based on a unique combination of three core technologies:
-NLP, is the ability to understand the text by identifying patterns in language.
-Machine learning, which uses algorithms to find patterns and make predictions based on them.
-Natural Language Generation (NLG), which allows computers to create new text that mimics human language.
Watch the Rytr Me AI Review
Rytr me AI Tool Pros and Cons
All tools are not perfect. So, here is the list of Pros and cons that you must know before buying the Rytr me Ai writing tool.
Who can use Rytr me AI Tool?
Rytr me is for every content creator looking to create quality content in less time to save money and effort. However, the tool is best for the below professionals.
Rytr me AI Tool Customer Reviews & Ratings
Now it's time to show you some of Rytr Me reviews from his customers.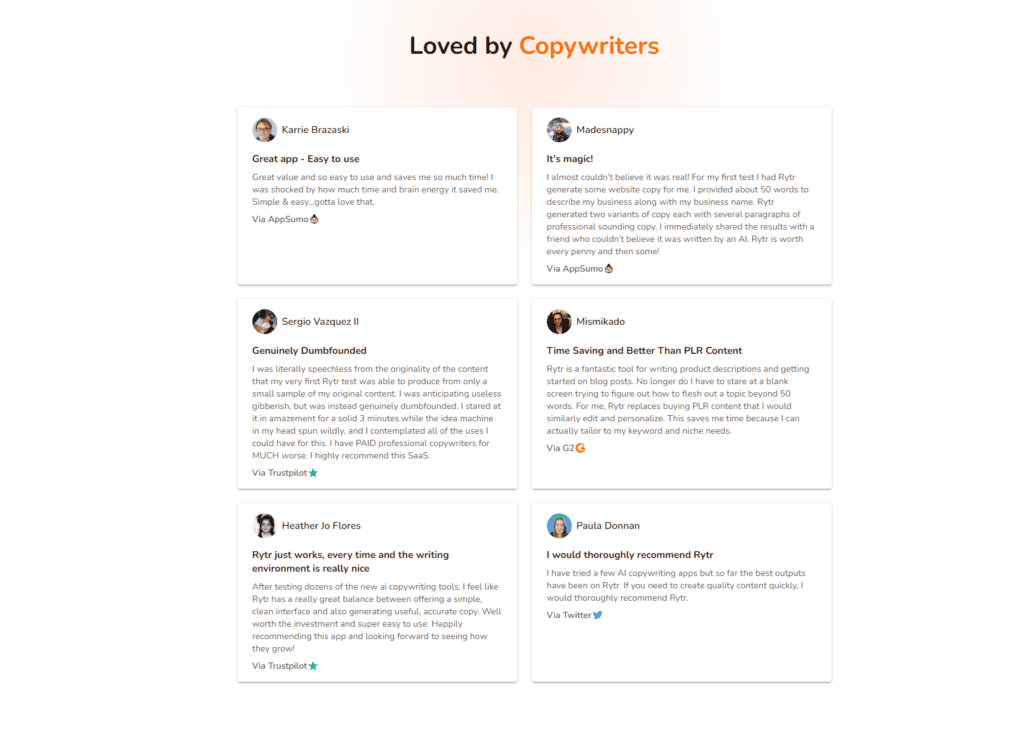 Rytr me AI Tool Pricing Plans
Rytr offers you three types of pricing plans.
Free Plan

Saver Plan

Unlimited Plan
Let me help you with a brief description of the plans listed above so you can choose the one that best suits you as per your requirement.
The first Plan that Rytr offers is a free plan that you can use for free without paying any upfront fees or amounts. However, the Plan has certain limitations. The Plan includes the below features –
The second Plan that Rytr offers is the Saver Plan. So if you are a new blogger or have started a career in the field of content writing, this is one of the best plans, to begin with.
The Saver Plan offers you a built-in plagiarism checker with Grammarly that helps you to fix grammar mistakes and makes sure that the content is plagiarism-free.
The Plan starts at $9/month if you go with their monthly subscription and a one-time payment of $90 if you choose to pay annually. This saves you 2 months of money on an annual subscription.
The third Plan that Rytr offers is the Unlimited Plan. As the name suggests, you can write unlimited words with this Plan.
The Unlimited Plan offers you a built-in plagiarism checker with Grammarly that helps you to fix grammar mistakes and makes sure that the content should be plagiarism-free.
The Plan starts at $29/month if you go with their monthly subscription and a one-time payment of $290 if you pay annually. This is the most cost-effective and budget-friendly plan. 
Final Verdict on Rytr me AI Writing Tool
The prime objective of this blog article is to help you find the right platform for your writing needs. As a writer, it can be tough to figure out which tools will work best for you. The good news is that there are many options in the market today, so it shouldn't be too hard to find one that suits your needs.
All in all, the best self-publishing software will help you build a website and marketing platform that can help you generate revenue from your writing. It's important to remember that there are many options out there, so do your research before jumping to a conclusion.
The best writing software will help you create a successful business by allowing you to focus on the creative side of things. With a good system in place, you can create high-quality content for your readers and monetize it in any way that makes sense for your business.
AI writing tools are becoming more and more popular and for a good reason. They can help anyone create better content in less time.
However, it is essential to learn how the tool works before using it. Rytr is no exception – you need to understand its ins and outs before you can create unique content with it.
If you're looking for a way to create better content without breaking the bank quickly, give Rytr a try. It's a free tool where you can get free account access without paying anything!
Rytr me AI Tool Customer Support Options
You can use these options to reach out to the Rytr AI writing tools team if you need assistance.
Email:
The first mode of contact with the Rytr team is via Email, where you can write your query and send it to support@rytr.me, and the Rytr team will assist you. 
Facebook group: The second easy option to contact the Rytr team is via the Facebook group. Rytr has its official Facebook group community where you can join and ask your query.
What are the benefits of using the Rytr me AI writing tool?
Once you have a clear idea of who can use the tool and the types of content you can create using the Rytr AI tool, let's find out some of the benefits that the tool offers.
Rater/Quality Control:
The software provides a tool that allows you to evaluate and edit your writing before publishing it.
Achieve More: The technology will help you write faster, better, and more efficiently than ever before. It will allow you to focus on the content rather than how it's written, allowing you to dive into your journeys as your words come alive on the page.
Personalization: The system gives you the ability to write specifically for your audience type and adapts itself to their preferences.
Engagement: The software provides a system for readers to get involved with what you're writing about by allowing them to comment on posts or like/dislike them.
Community: The system will allow you to build a community around your writing, giving people a place to interact with each other and share ideas.
Analytics: The system will track the performance of your writing and provide you with actionable insights that can help you improve over time.
Affordable: The software is affordable and will allow you to create multiple websites that can generate revenue from ads or affiliate marketing.
Efficiency: The system allows you to do more in less time. As an author, you have a lot on your plate, so why not let technology help take some of the burdens off? 
1. Write 100% plagiarism-free content with Rytr me
Are you fed up with a duplicate and spin content written by your content writer or cheap AI writing tools? If yes, you must give Rytr me a shot to counter these issues.
Here is an easy tutorial that you can follow to generate 100% unique content of your choice without compromising on the content quality.
So let's see the step-by-step process.
Here to demonstrate to you, I am creating a blog outline. So once you log in to the tool, you have to create a folder where you can make your posts. Post creating the folder, you will get an interface similar to the below image.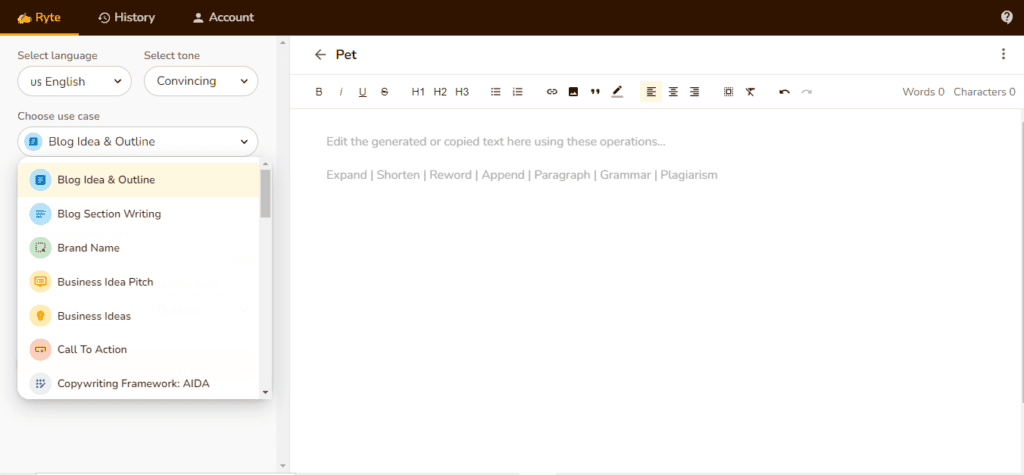 In the next step, you need to select the language, tone of voice, case (here, you need to choose the content type you need to write- for me, It's a Blog outline), number of variants (it is from 1 to 3)  and the creative level.
Pro tips: You can choose the number of variants to 3 and creative level medium for the best result.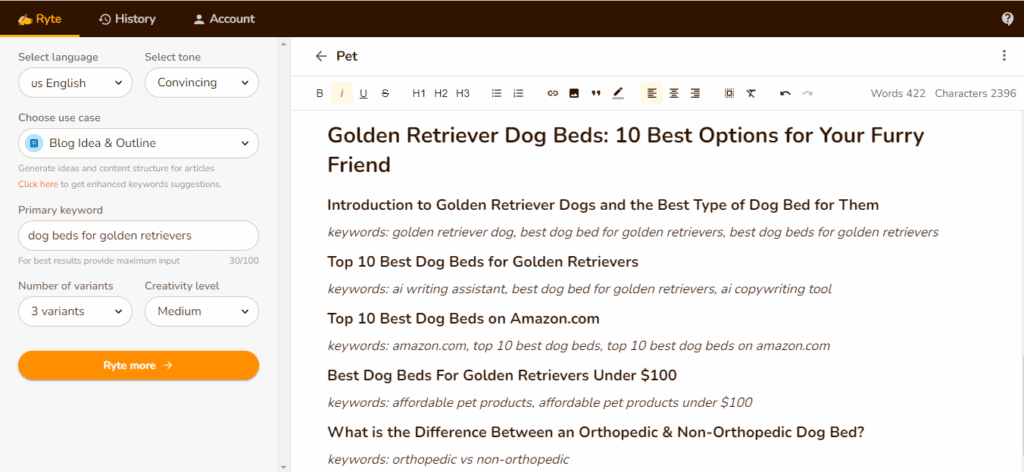 Once all the settings are done, simply click on Ryte more, and it will produce the results you can see in the above image. If you need fewer variants of the content, you can change the number of variants to 1 or 2.
Similarly, if you need more creativity in your content, you can switch up the Creativity level to high or max.
The Interface of Ryt.me is easy to use as all the options are listed in the same place, as shown in the below image. Moreover, you have a dedicated back button to move from one folder to another.
So that if you are working on one project and want to jump on to another, you can easily do the same.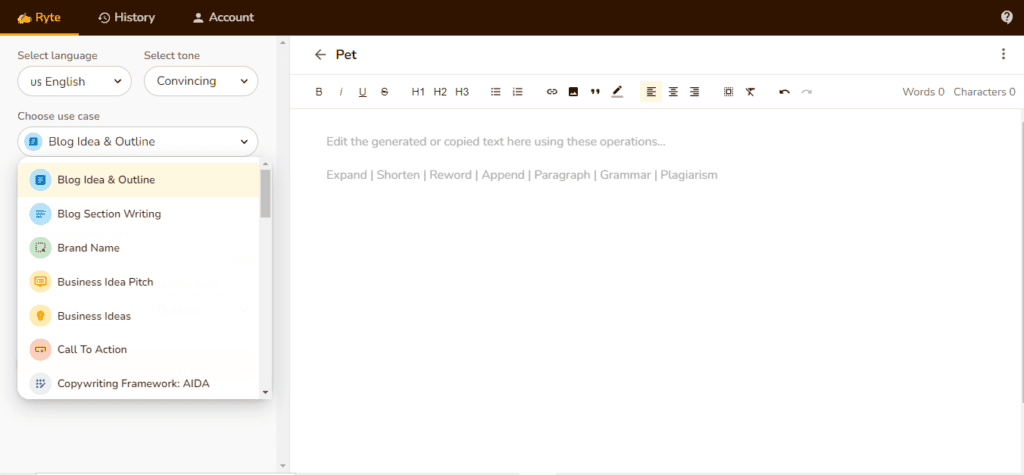 Rytr offers you over 30+ templates to choose from, and you can select any of these templates to write different types of content you need. 
Here are a few of the templates that Rytr.me offers.
3. Create engaging content for your blog post
If you are struggling to create engaging content for your blog post, Rytr is the best solution, you can use the tool and create a blog post for your website within a few minutes.
In this section, I will demonstrate how you can create unique content by using rytr. me.

Rephrase: The option helps you rewrite your existing content to improve the quality of the content. To use the feature, simply copy your existing content and paste it into the content section, set the tone of voice, and click on generate AI content. Your content is now ready.
Blog Post Outline: To generate quality content, blog post outlining is critical. If your blog post is not in the sequence, the user will not engage with your content which causes more bounce rate of your website.
Blog Post Extend: You can use this feature to expand your content, making the paragraph easier to understand for the readers. To use the feature, you need to select the line you want to expand and click on the options. Rytr automatically does the rest for you.
Improve: The feature helps you improve the content you have written. So if you have an already written blog, you can use the feature to enhance the quality of that content.
SEO- Blog Posts Title and meta descriptions: Yes, Rytr. I have a dedicated feature where you can create a title and meta description for your blog post that can increase the CTR.
4. Boost your social media presence with Rytr.me
Like the blog section, Rytr also has a dedicated section of social media where you can use the feature to create catchy social media Ads and BIO that you can use to generate leads or sell your product.
Moreover, the best part is that the ad copies generated by Rytr are also unique and can convert the reader to buyers.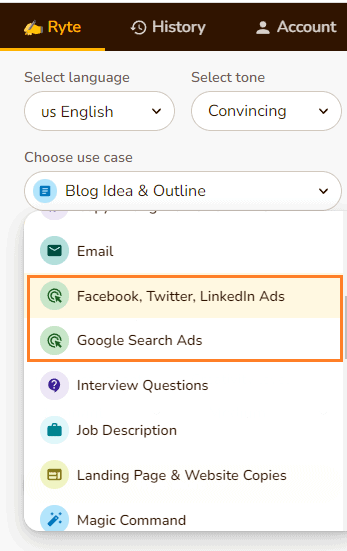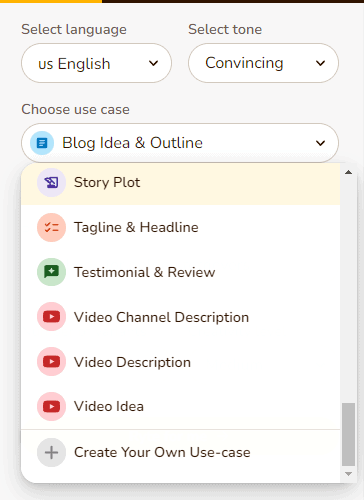 Here are the templates that you get with the Rytr social media section.
Facebook Ads: You can create Facebook ads with the help of the Rytr AI tool that, within a second
Instagram Ads: You can write catchy captions for your Instagram Ads with this option.
Create Story: Here, you can write and create a story for your users. So if you are running a website where you are publishing new stories, this feature makes your job easier.
YouTube Video Description: You can write catchy descriptions for your YouTube Video 
Personal BIO: You can create a personal BIO that helps you capture the users' attention.
5. Increase your Affiliate sales with Rytr me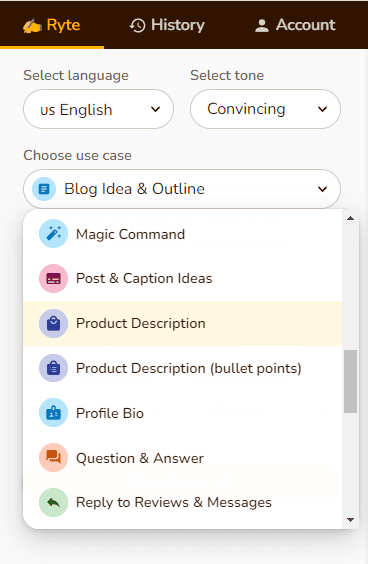 Is your content not able to generate sales? Then It's time to create some engaging content to boost your sales, and the best and easiest option available  is Rytr Ai writer. 
Similar to the blog and Ads section, Rytr has a dedicated template that offers you the option to create Product descriptions and features of your choice. 
The option is not limited here. You can also generate SEO-friendly titles, meta descriptions, and product features
How to creating engaging content with the help of Rytr me?
Now that you have a clear idea about all the templates Rytr is offering you, it's time to see how you can write a blog post quickly.
I am demonstrating by creating a blog post to show how Rytr AI works. You can select any other option according to your need.
You can also claim your lifetime free account from here.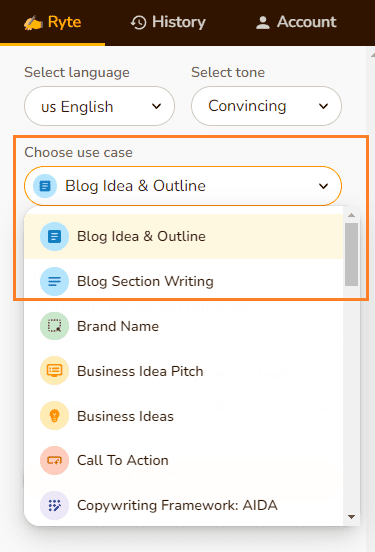 If you want to create the post from scratch, you can click on the first option, Blog Idea & Outline. The option helps you to make the blog from scratch.
Once you click on the option, in the next step, you need to add in the Keyword for the blog post and the number of variants along with the Creativity level. Once you are done with them, click on Ryte for me.
Voila, your blog outline is ready.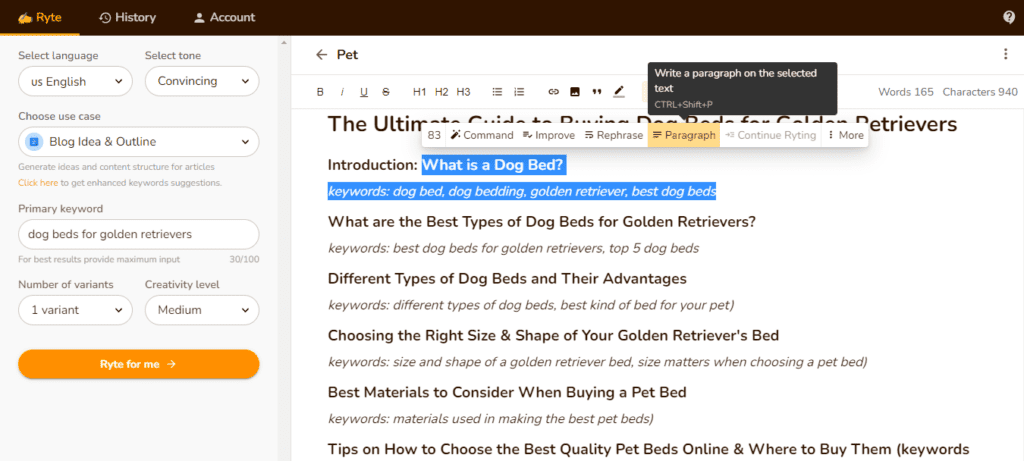 As you can see, your blog outlines are mentioned in the next step. You can use them to write your complete blog.
To do so, you have to copy the outline and click on the paragraph, as you can see in the above image, and the AI tool will write the complete paragraph for that keyword you have selected. 
Always remember the tool is not a human being, and you have to put the keyword smartly, in order for the tool to produce the desired article.
How to rewrite article to improve the quality of content with Rytr me AI Tool?
I hope you now have a clear idea of how to rephrase the content to improve the ranking of the existing post. To do so, Rytr has a particular feature that you can use.
As I mentioned earlier, the best part of the tool is its Interface which exhibits all the features in the same place. So, you can conveniently use the rephrase option from the same section without having to waste time looking for it. 
You have to provide the content you want to rephrase in step one. You can also see it in the below image.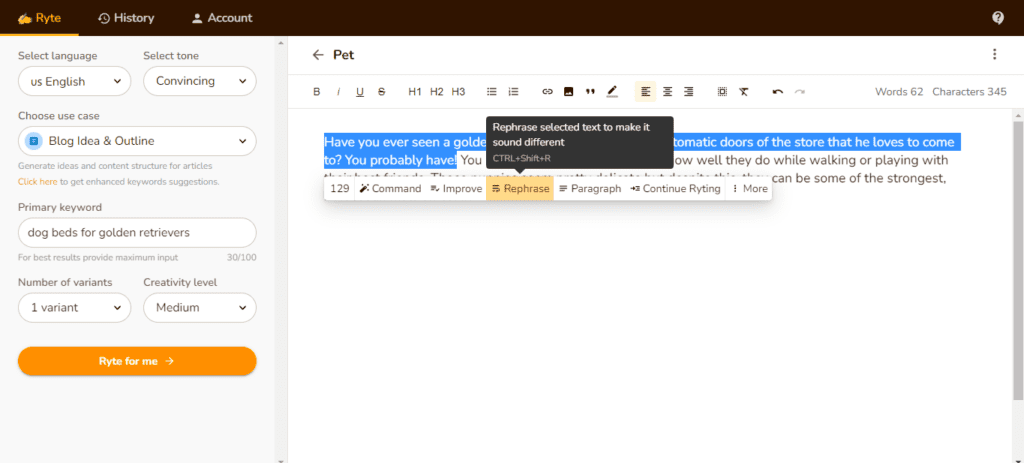 Copy and paste your existing content and set the tone of voice as per your requirements.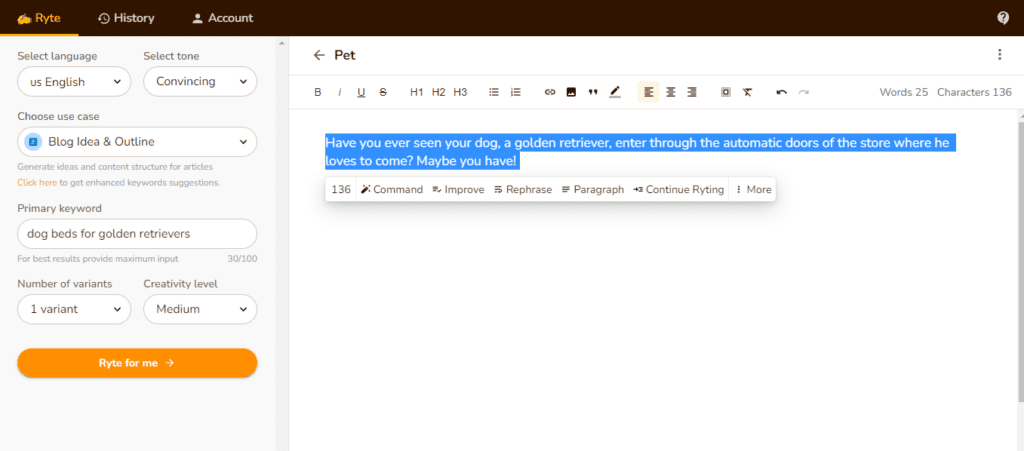 As you can see, Rytr has rewritten the existing content. Once you are happy with the content generated, you can copy that phrase and use it in your posts.